Video has become a critical workplace capability because it has the ability to deliver measurable value. We advise our clients on how to tackle the myriad components that make up the enterprise video ecosystem – including web and video conferencing, video creation, and the delivery of video via Enterprise Video platforms.
What are the key trends in Video?
How do I develop a Video Content Management strategy?
Which Enterprise Video platforms should I be evaluating?
Free Webinar
Demo Day Recording
Can You See Me Now? Why Enterprise Video Matters More in 2017
Enterprise Video Research
The Aragon Research Globe for Enterprise Video, 2017
June 2, 2017
Summary: The fourth edition of the Aragon Globe for Enterprise Video examines 17 providers in a market that is expanding from Content Management to a full video platform that supports video capture and live video delivery Read More >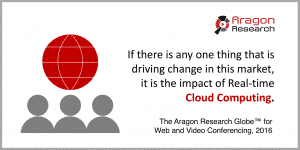 The Aragon Research Globe for Web And Video Conferencing, 2016: Video Powers The Digital Enterprise
December 15, 2016
Summary: In this report, Aragon Research highlights 23 major providers helping enterprises work faster and to compete in the global market Read More >
Four Predictions for Enterprise Video, 2017
January 20, 2017
Summary: In 2017, the focus is on making high quality video more accessible to each area of the business. In this report, Aragon Research identifies four key predictions than can help enterprises plan to leverage video more effectively for 2017 and beyond Read More >
Hot Vendors in Video Conferencing, 2016
June 30, 2016
Summary: Enterprises are raising the standard for what they are seeking when it comes to buying a Video Conferencing solution and the increased demand for high quality video has caused the market to respond Read More >
The Race to Own Web and Video Conferencing: Zoom Gets $100M from Sequoia
January 24, 2017
Zoom had jumped into a leadership position before Sequoia doubled down with a $100 Million Series D Investment. Now with the capital it needs, Zoom will be ready to take things to the next level, which could include Virtual Reality Read More >
Polycom's New CEO and Product Arsenal Promise Digital Success
October 25, 2016
Polycom has been in the midst of a product makeover. This blog is about the changes at Polycom, including bringing a new CEO on board, and the opportunity the company has in the Digital Era Read More >
Microsoft Teams is the New Slack Killer
November 14, 2016
Microsoft announced Microsoft Teams – based on Microsoft Office, not on Skype for Business. At first glance, Microsoft Teams might seem like a direct faceoff with Skype for Business, but it's really a Slack killer. This blog discusses some of the reasons why Teams is the new Slack Killer Read More >
GuideSpark: The Video Platform You Haven't Met Yet
July 7, 2016
GuideSpark is known for Employee Communications and Engagement via its cool videos that often show up during employee on-boarding or during benefits selection season. This blog talks about GuideSpark and its role in Enterprise Video Read More >