High employee engagement is linked to increases in revenues and overall customer success, and this is achieved, in part, by making sure employees have access to the tools and knowledge they need to do their jobs. Video learning and micro learning are the new keys to success, as people need more just-in-time knowledge to do their jobs. We advise our clients on the solutions and strategies that will work best for their Learning and Talent Management goals.
How can I incentivize my employees to keep them engaged?
Who are the Learning and Talent providers I should be evaluating?
How can I leverage mobile and video to train people faster?
Learning and Talent Research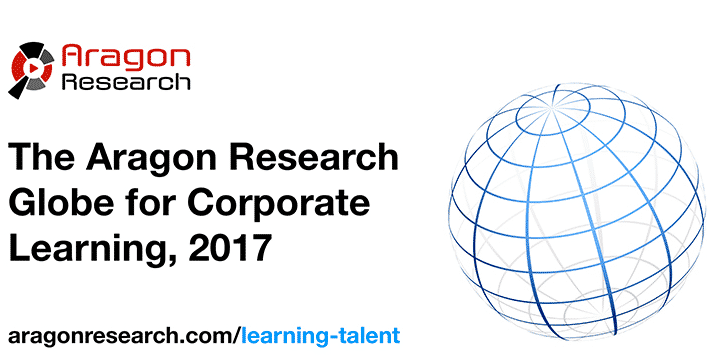 The Aragon Research Globe for Corporate Learning, 2017
May 19, 2017
Summary: Enterprises are seeking providers that provide a modern experience and that can deliver knowledge and just in time learning. This Research Globe examines 21 learning providers Read More >
Zenefits Launches Digital HR Platform in Quest to Automate Human Resources
March 22, 2017
Summary: This research note analyzes the new challenges faced by enterprises when it comes to managing a modern workforce Read More >
Special Report: Global Mobility Management Will Disrupt Traditional Workforce Management
April 11, 2017
Summary: Aragon Research introduces a new type of business app that manages the complete set of processes to manage the movement of employees Read More >
Digital HR Platforms and People Science
March 16, 2017
Summary: New advanced HR and people solutions are emerging to help employers increase workforce visibility, automate HR processes, and deliver great workforce experiences for their people Read More >
Learning and Talent Blogs
Informal Learning and the Battle between D2L, Degreed, Edcast and NovoEd
December 8, 2016
The demand by end users for better and faster access to learning content is fueling a new generation of Learning Providers. This blog focuses on this demand Read More >
Special Report: The Rise Of Video Learning
August 11, 2014
While Video Collaboration is increasing, Video Learning is the new way forward in Knowledge transfer – aka Learning. Our Special Report covers the shift to Video Learning and the impact Video Tutorials are having across the enterprise Read More >
Leverage Cognitive AI to Make Smarter Decisions
November 16, 2016
The amount of data and information flying our way is almost too much to absorb. The digital world will only become increasingly complex and faster, so how can organizations and their executives survive and thrive? Read More >
The Shift to Mobile Learning – Business Leaders are not Waiting
April 11, 2014
When it comes to learning, mobile has always been hyped but under-delivered. Business leaders are looking for and seeking out better ways to deliver learning to their users Read More >